---
European Human Powered Vehicle Association
Sinds een week is de site van de European Human Powered Vehicle Association, kort EHPVA, in de lucht.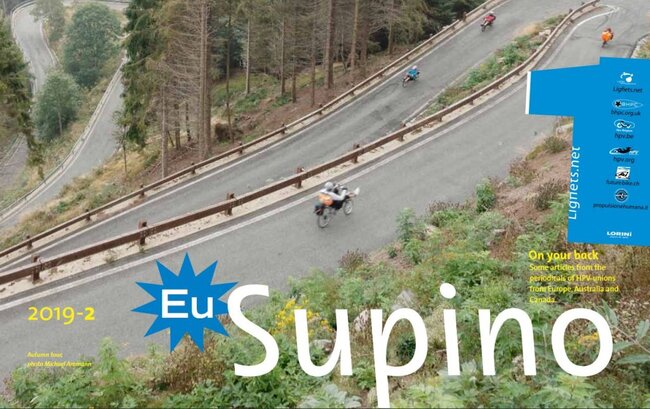 Dankzij de inspanningen van Simon Bailey is er een website er gekomen voor de samenwerking van alle Europese ligfietsclubs, de
European Human Powered Vehicle Association
.
Vanuit deze nieuwe site is er een link naar alle ligfietsclubs die op dit moment bekend zijn. Ook zijn de Engelstalige magazines van
EuSupino
vanaf deze website te downloaden.
Dankzij de inspanningen van velen is de tweede editie van EuSupino nog uitgebreider dan die van vorig jaar. Het blad kan gratis gedownload en verspreid worden.
In de Eusupino staan verhalen van de diverse ligfietsclubs. Met in de recentste editie:
To share experiences, by Søren Flensted Möller, Denmark;
Journey to the North Capeby Alve Henricson from Sweden;
Racing in Räyskälä, by Theo Zweers, from the Dutch Ligfiets& 2019-3;
Recumbent activities in Finland, by Tero Linnanen, Finland;
Cycling makes people happy, by Alexey Ganshin, Ukraine;
Autumn tour to Alpe d'Huez, by Michael Ammann, Future Bike, in Infobul 210;
Everyday mobility, by Werner Klomp, Recumbent bike club Vorarlberg, Austria;
Literature recommendations, by Heike Bunte, HPV Germany;
The 24 hours of Shenington, by Marini of the Belgian HPV union;
On three wheels to Corfu, by Armin Ziegler, Future Bike Switzerland in Infobul 210;
Rohloff reborn, by Colin Wait in Laidback Cyclist, summer 2019;
Diversity on and along the race track, by Dieter Hannemann, Uli Bentlage and Jan Kranczoch in Infobul, periodical of the HPV Club, Germany;
Riding the velomobile to Rapperswil, by Benedikte Löhrer, Future Bike Switzerland;
Kyle's 6 hour and 1 hour Record Attempts, by Kyle Lierich from Australia;
Construction Report Phantom Mini-T, by Tim Corbett from Australia;
Soup Dragon Episode 2, by Russell Bridge in Laidback Cyclist, summer 2019;
A Purposeful Semi-Recumbent Tandem Tour in Western Canada, by Peter and Serap Brown from Vancouver, Canada;
Recumbent activities in France in 2020, by Marc Lesourd of AFV, France;
Bram Moens 35 years in businessby Wilfred Brahm in the Dutch Ligfiets& 2019-3;
Miles Kingsbury's first Quattro, by Bram Smit and Willem Jan Coster in Ligfiets& 2019-3;
'Recumbent back', by Geoff Searle in Laidback Cyclist, summer 2019;
Velomobile and E-assist, by Jean-Bernard Jouannel;
Quattrovelo with crank motor, by Denis Bodennec;
Conversion to an electric recumbent bicycle, by Erwin Villiger, Future Bike, in Infobul;
European HPV Co-operation, Minutes of the Meeting of 27 April 2019, by Andreas Hertting, HPV Germany;
World championship 17–19 July 2020 in Amsterdam-Sloten, by Rembrandt Bakker, NVHPV.
For the English version click on the flag (at the top right).
Reacties
Er zijn nog geen reacties op dit bericht.
Als je een reactie op dit bericht wilt plaatsen, moet je eerst inloggen of registreren.