---
Groene beurzen
Hase heeft met de Klimax een stormvloed aan nieuws gemaakt in de afgelopen weken. De fietsomhulling kreeg de "Green Mobility" Award op Eurobike.

In Frankrijk en in Seoul zijn ook groene beurzen dit jaar.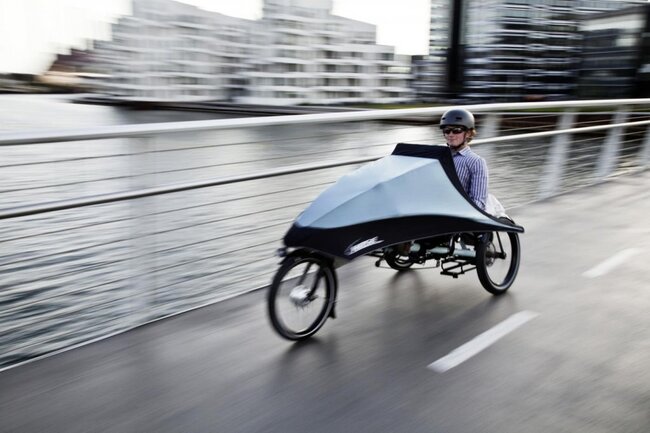 In Frankrijk wordt vlak bij
Le Havre een beurs gehouden
met diverse ligfietsers die presentatie doen en vele fietsen te zien zijn.
Op
Recumbentblog staat een artikel
over een ontwerpwedstrijd in Seoul.
Dan nog de groene prijs van Eurobike. Er is over de Klimax al veel naar buiten gekomen en de stroomlijn krijgt veel aandacht.
De mensen van Hase schrijven:
The recipients of this year's EUROBIKE AWARD were honoured on the opening day of the EUROBIKE, the leading trade fair of the international bicycle industry, in Friedrichshafen, Germany (September 1 to 4, 2010). The jury of experts for the EUROBIKE AWARD granted awards or recognition to 92 of the 565 registered entries (417 products and 148 student concepts). The organizers were particularly pleased with the competition's increasing popularity internationally: This year, entries were received from 30 different countries (2009: 25 countries).
The third EUROBIKE GREEN AWARD, presented to a product that exhibits particularly high ecological and sustainable value, goes to a pedelec as a recumbent trike with a foldable fairing from Hase Spezialräder from Waltrop, Germany:
Category: Special-Purpose bikes
Product: KLIMAX - Recumbent bike with fairing
Company: Hase Spezialräder, Waltrop/Germany
Design: Hase Spezialräder, Waltrop/Germany
Jury statement: "The KLIMAX is an outstanding product designed for environmentally friendly, everyday mobility - in any weather: a pedelec with a folding fairing, which can be mounted in seconds, if needed. It offers great riding comfort as well as real riding fun. The KLIMAX E-Trike is competition that can be taken very seriously by the upcoming category of electric cars. In contrast to the cars, it is an existing, well-developed product that has all the advantages of a bicycle: it does not require a driving license, it does not require insurance, it can be ridden without a helmet and can ride anywhere where bicycles are also allowed to ride. As a bike, it has no limitations whatsoever and is affordable for many consumers. Its overall eco-balance is considerably better than that of an electric car. And it also shows that pedelecs as electrically supported bikes are now available in many different consumer-friendly versions - starting with city bikes to compact, folding and trekking bikes and right on up to the groups shown here of what are called recumbent bikes. The KLIMAX from Hase is not only fun to ride, it is also a pioneer in the "Green Mobility" movement."
Data for Hase Bikes' KLIMAX 2K:
Frame material: 7046/7005 aluminum
Seat/seat height: ergonomic Hase mesh seat, adjustable/height 46 cm (18")
Gear system: Shimano Tiagra 9-speed rear derailleur
Brakes: Avid Elixir 3 hydraulic disc brakes on the rear wheels
Wheels: 20", Hase Quickstick hubs, tool-free removal
Motor: Protanium hub motor, 180W
Battery: lithium-ion, charge time 4.5 h
Other: differential, Big Apple tires, lighting system with Cyo headlight, 2.3-liter side
bag, Hase Foldable Fairing bag
Price: starting at EUR 5,590.00
Hase Foldable Fairing as retrofit kit: EUR 899.00
Reacties
Er zijn nog geen reacties op dit bericht.
Als je een reactie op dit bericht wilt plaatsen, moet je eerst inloggen of registreren.