---
Race venues
Google-translate site to Nederlands/Français/Deutsch.
The races take place at two locations, see
overview map
.
[hash]spaarnwoude[/hash]
1. Wheelerplanet Spaarnwoude, Zijkanaal C Weg 6-7, 2064 KA, Spaarndam
This track (
google
) is with its 3.2 kms the longest one of the two. It promises to be lots of fun for trikes and open recumbents and a nice challenge for velomobiles trying to maintain speed in each of the four 180 degree curves. Don't worry too much, they are gentle and at least 40 meters in diameter. The asphalt can be a bit rough in places, but the surrounding trees provide a lot of shade. Inspect the track
on Youtube
. This track has a nice canteen with outside seating overlooking the track, and a small playground. This venue is open Saturday from 1pm to 6pm.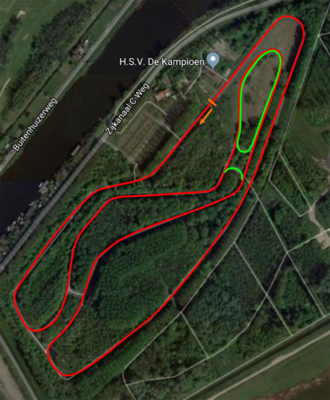 [hash]sloten[/hash]
2. Sportpark Sloten, Sloterweg 1045, 1066 CD, Amsterdam
This track (
google)
is 2.5 kms long and very fast giving its wide and more or less rectangular layout. It also has quite a bit of shade and wind shelter. Inspect the track by watching this
Youtube video
or by using
Google streetview
. Inside the track there are all kinds of sports facilities, including a velodrome (closed in July). We use the canteen and toilet/shower facilities of cycling club ASC Olympia. This venue opens Friday 14:00 and closes Sunday 18:00.