---
Pedaal tegen Peddel race
Grappig, de boot die zelfbouwer Greg aan het bouwen is gaat worden ingezet in een race van een bekende kanokampioen tegen een pedaalaangedreven fiets.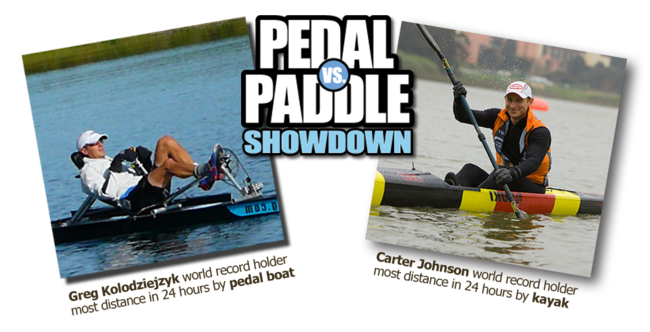 Vandaag werd het volgende persbericht verstuurd:
PvP Press Release
23 september 2013 om 17:29
FOR IMMEDIATE RELEASE
24 Hour Race Pits Pedaler Against Paddler
Endurance Athletes Hoping to set New Guinness Record
Whitefish Lake, Montana - Two athletes, one course, and a 24 hour window to set a new world record. Those are the key ingredients in the Pedal vs Paddle Showdown, scheduled to start at 8am - Saturday, Sept. 28* on a five kilometer (3.1 mile) course on Whitefish Lake in Montana.
The racers are Canadian ultra-marathoner Greg Kolodziejzyk, and American surfski and kayak racer Carter Johnson. Both men have set Guinness-recognized world records for the most distance traveled on water using only human power. They are looking to improve on those marks during this head-to-head 24 hour race being staged to raise funds for the registered charitable organization MitoCanada, which supports Canadians affected by mitochondrial disease, along with research into the condition.
"We both thought that since our 24 hour record distances were so close together, a record attempt race would motivate us to better our respective world records," explains Kolodziejzyk. "I was also very excited about using the race to raise money for my friend Blaine Penny's charity MitoCanada."
The Pedal vs Paddle Showdown is not just a test of athletic ability. Mental preparation is another key component of the gruelling event.
"Staying motivated and fed at night is always a bit tricky, says Johnson. "That will be a major factor in this particular event due to cold temperatures."
"The hour or so before sunrise is usually very difficult," adds Kolodziejzyk. "But I am usually excited knowing that sunrise, and the finish is (relatively) close. So I would saythe hardest part of a 24 hour effort is usually the 4 to 5 hours before sunrise - it is dark, cold, I am so tired, and I know that I still have many, many hours to go.
Kolodziejzyk has set a personal target of 250km (155 miles) for this event; nearly 5km longer than his current record. Johnson is even more ambitious -- aiming for a 253km (157 miles) total distance, to best the current record of 244 km held by Brandon Nelson. While both men train regularly, each has stepped up their preparations in anticipation of the record-breaking attempt.
"I've done many of these so I would have to say I have a lifetime (of training) at this point," says Johnson. I've been preparing for 6 weeks specifically for this one."
"I've been doing weekly training rides from 6 to 8 hours, then plenty of higher intensity rides between the long efforts," says Kolodziejzyk. "For the last 2 weeks I was on a hiking trip in the Alps and I'm hoping the climbing we did has strengthened my legs for this event."
Kolodziejzyk faces one potential hurdle that Johnson doesn't need to worry about. Johnson will race with proven, simple equipment -- a paddle and a Huki Surfski kayak. Greg however, will be using a custom-built, pedal-powered boat, with a much larger potential for a mechanical breakdown.
"The only factor that can potentially destroy Carter's race is Carter. For me, it could be me as well, but also any one of many malfunctions like my gear box breaking, my shaft snapping in two, my propeller falling off, rudder getting bent, etc. In my opinion, Carter is by far the better athlete. So, If I win, then it is because of the technology for sure."
Johnson also points out that while this race may seem like a battle of big leg muscles versus less powerful arms, the reality is that paddling uses the entire body.
"It's a common and incorrect misconception that kayaking is an arm sport. A kayaker initially generates thrust thru leg drive to start the twisting of the torso. Extreme amounts of torque are generated in this initial 3 inches of paddle moving through the water. Next a combination of core, back, chest and shoulder muscles lock the blade stationary to you as you rotate, which is where 90% of your propulsion comes from. The arms then provide an addition 10% thru pulling. Very few muscles in the body are not fully utilized."
The Pedal vs Paddle Showdown begins at 8am on Sept. 28.
For more information about the race and the competitors, MitoCanada, and live race day results please visit:
http://www.pedalvspaddle.com
.
*may be postponed/rescheduled to another date between Sept. 28 - Oct. 5 depending on weather.
Reacties
Er zijn nog geen reacties op dit bericht.
Als je een reactie op dit bericht wilt plaatsen, moet je eerst inloggen of registreren.