---
Driewielernieuws 2
In het uitgebreide bericht de zojuist verschenen informatie en beelden van de nieuwe Greenspeed driewieler.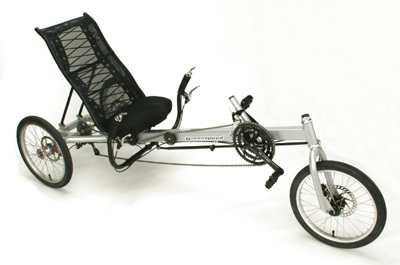 Design features of the New Greenspeed Frog.
This trike is designed for people who want a trike that is easier to get in and out of than our existing Greenspeed trikes, and for those who prefer to sit higher in traffic. It also has a narrower track, to allow it fit through gates and doorways more easily. Thus it is not as stable, and requires more "body English" for high speed cornering. We have had a special rectangular aluminium alloy tubing made for the main tube, with rounded corners. This provides leg length adjustment without having to re-align the front section of the frame. This tube also gives greater strength for weight, than a round tube in bending, to support the rider's weight, and blends in perfectly with the head tube. Square tube is used to brace the rear axle, and to provide a proper towing hitch for trailers, and to join to another trike, for tandem use. There will also be specific hitches for trailers, which will allow the Burley trailers to be towed centrally behind the trike, instead of offset, as they are with rear wheel attachment.
One of the main features of the trike is that it uses a proper differential, as standard equipment. This gives a balanced two wheel drive, which enables it climb steep hills, without the front wheel crabbing to one side. It also enables it to turn easily in either direction, without the gearing increasing, as it does with freewheel (clutch) drives. The rear wheels use a six pin drive, which enables the rear wheels to be easily removed with one Allen screw, without disturbing the disc brakes.
16" wheels (40-349) are used, the same as on the GT3, as we have found that these wheels are stronger than 20" wheels, lighter, give better performance, and with the Scorcher tyres, give a better ride than most 20" tyres.
Particular attention has been paid to the steering design. We have used underseat steering to eliminate the "tiller effect" of long handle bars used on some trikes, in which the rider is forced to swing the bars to the opposite side to which they are turning. The bars are adjustable for both width, and reach. The steering is geared up to give a natural response with the long wheelbase, and both the head angle and trail have been adjusted a number of times, in testing and development, to give the best steering "feel" on the road.
The RANS style seat is adjustable for rake, and easily removable for transport or storage.
Disc brakes are used on all three wheels to give superior braking. Standard gearing is 24 speed, with the option of a Schulmpf Drive to give a wider range. Track width is 67 cms, overall width is 72 cms, and wheelbase is 152 cms. Weight 18.1 kilos Specifications are subject to change without notice. The production versions of the Frog will be available this summer.
And it stands up to fit in a small room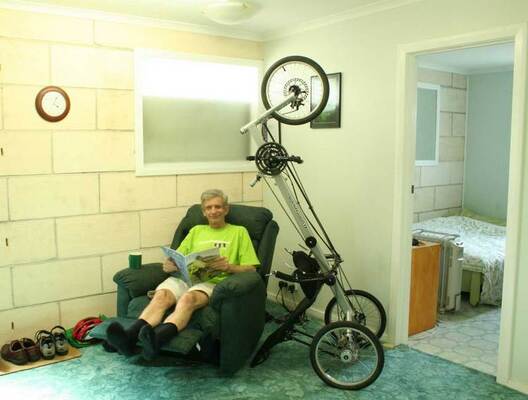 Reacties
Er zijn nog geen reacties op dit bericht.
Als je een reactie op dit bericht wilt plaatsen, moet je eerst inloggen of registreren.