---
Go-One
The Go-One3 is a fully suspended 3-Wheeler Velomobil, selfsuporting and fully enclosed Composite Chassis.
---
Adres
Zeppelinstraße 16
47638 Straelen Duitsland
Telefoon
0049-2834-6198
Website
http://www.go-one.de
---
Fietsen (niet langer in productie)
Go-one³
Designed by Michael Goretzky (involved in the development of Daimler Chrysler's SMART automobile), the go-one³ is both a new type of vehicle and a new way of life. For the first time, conservation,...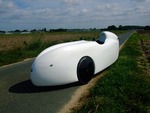 Evo-K-
Every here and then in the last years, there was the question regarding a velomobile in Beyss-quality but without the characteristic canopy of the ancestors.  Well, lovers of "head-out"-velomobile...
Evo-Ks-
After the Evo-K- has shaken up the velomobile market and as we are almost exclusively building this model, we decided to offer an even slimmer and even more aerodynamic variant of this model for ri...